Activity Statements - Customized Statements
Overview
IB provides two default statements in Account Management, Full Default and Simple Default. Full gives you a complete Activity Statement and is the only statement that supports a Yearly period. Simple Default provides a simpler daily or monthly statement.
To ensure that your Activity Statement presents the data that is most important to you, create customized statements on the Activity Statements page in Account Management.
Customized statements let you to specify only the report sections, amount of detail and P&L format you want to include in your statement, and you save your customized statement as a named statement that appears in the Available Statements list. You can create as many customized statements as you want, and view your activity using any of these statements at any time.
For a complete list of all Activity Statement sections, click the Statement Details link above.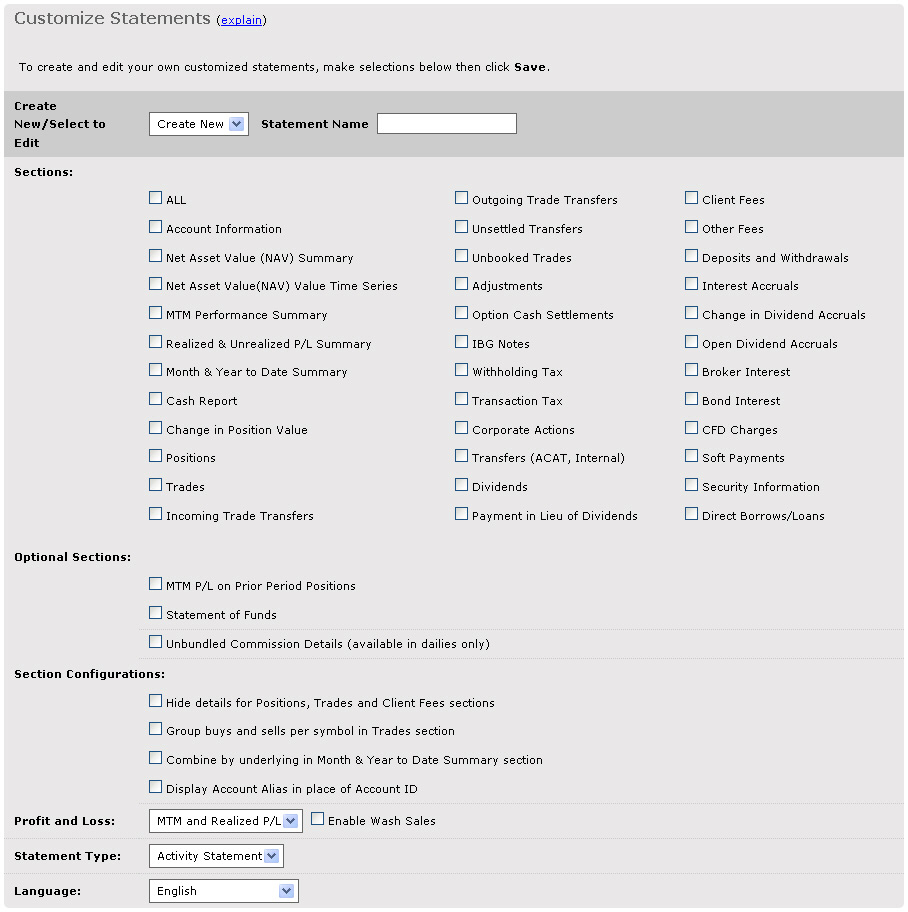 Additional Options
In addition to choosing which report sections to include in your customized statement, you can also select additional options:
Section Configuration
You can select the following options:
Hide details for Positions, Trades and Client Fees sections
Group buys and sells per symbol in Trades section
Combine by underlying in Month & Year to Date Summary section
Display Account Alias in place of Account ID
Profit and Loss
When you set up your customized statements, you can select your preferred method of calculating profit and loss in the Profit and Loss field:
Realized and Unrealized and MTM
Realized and Unrealized Only
About Profit and Loss
Profit and loss across all transactions, positions and asset types is calculated under First In, First Out (FIFO) and Mark-to-Market (MTM) methodologies by default.
FIFO accounting is used for stocks, security options and single stock futures.
MTM accounting is used for futures and futures options.
With the FIFO method, a closing transaction is matched with the cost basis of the earliest transaction in the position to determine realized profit or loss (the difference between your entry execution cost and exit execution cost). MTM shows how much profit or loss was made in current trading. The MTM calculations assume all open positions and transactions are settled at the end of the day and new positions are opened the next day.
You can change FIFO to LIFO or Maximize Losses on the Tax Basis Declaration page in the Reports menu. Your profit and loss selection (Realized and Unrealized) in your customized statement will reflect your selection on the Tax Basis Declaration page.
Statement Type
You can select the type of statement you want to create in the Statement Type field:
Activity Statement - A report that includes information about your account activity by trade date.
Mobile Summary - A scaled-down statement designed to be viewed on a mobile device.
Execution Settlement - IBExecutions Services customers can view activity by settlement date instead of trade date. If you select Execution Settlement, filter the settlement by broker name or broker account using the fields provided.
Settlement - Available to IBPrime Services customers, IB India customers and all customers by request,this statement shows activity by settlement date.
Projected Settlement - Available to IBPrime Services customers, IB India customers and all customers by request,this statement shows activity by projected settlement date.
Language
You can also select the language for your customized statement. Currently, the following languages are available:
Chinese (Simplified)
Chinese (Traditional)
Japanese
Statement Delivery Settings
You can also specify delivery settings for a customized statement, including Account ID, period of activity (daily or monthly) and delivery format (HTML/WEB or PDF), then enable email or FTP delivery of the customized template on the Delivery Settings page in Account Management.

Note:Amounts on Customized Statements are formatted to two decimal places. If amounts are greater than two decimal places, we use "half-even" rounding. This means that we round such amounts up to the nearest even number. For example, xxx.775 rounds up to xxx.78, and xxx.725 rounds down to xxx.72.